Methods & Process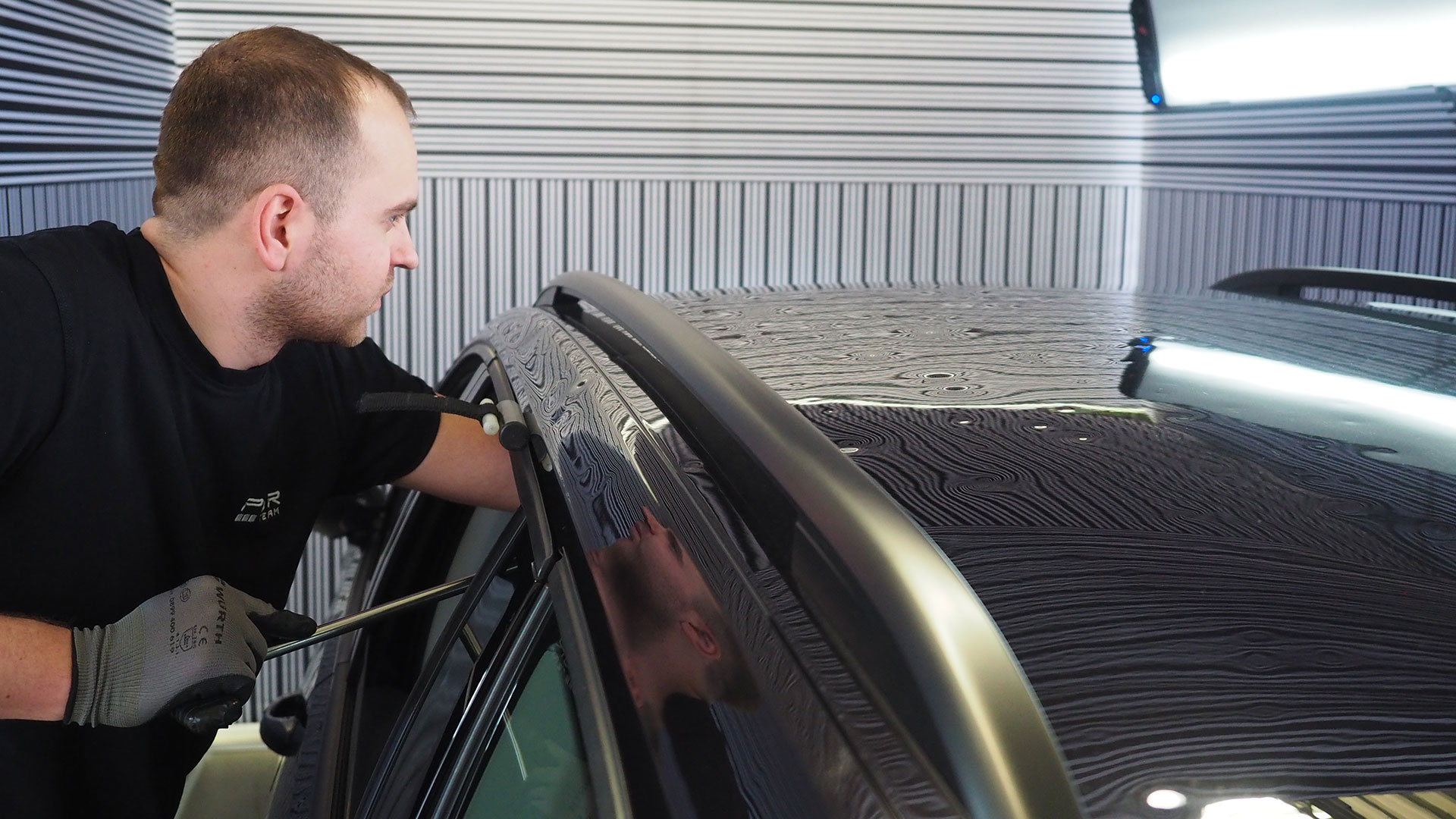 Pressure technique
This professional technique enables us to repair your vehicle without painting. Lever tools are used to remove the dent when carefully kneading the back surface of the damaged metal sheet.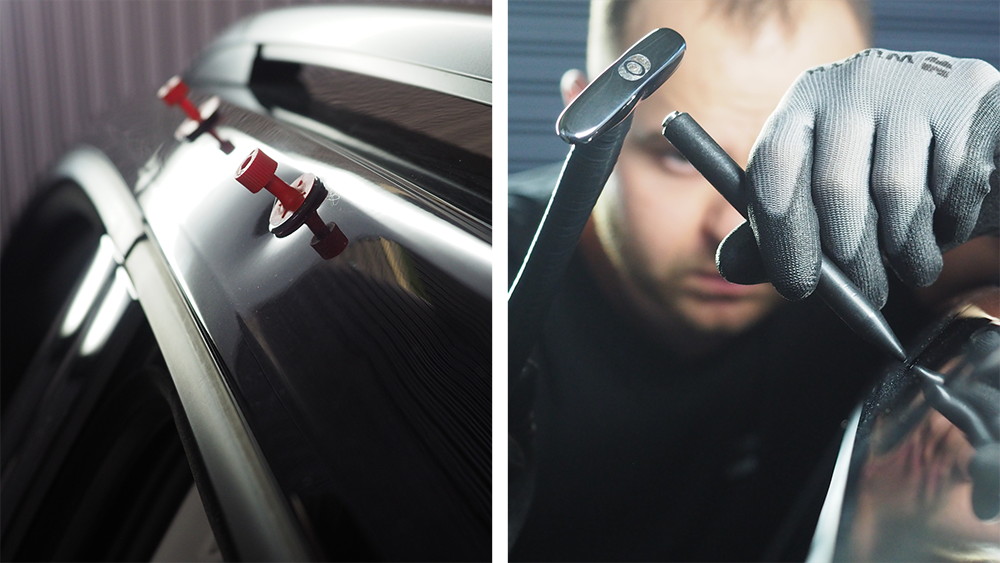 Glue pulling
Inaccessible components of the vehicle like the roof frame are repaired by means of the adhesive method. This means that an adapter is shortly glued on the dent with a special hot glue and then pulled off using a slide hammer. The metal sheet deforms to that effect and the technician can now press it back into its original shape.
Is your vehicle damaged? One call is enough and we will take care of your concern
The appraisal appointment is arranged by phone
You bring your car for appraisal with your insurance company
We will schedule a repair appointment with you
We will inform you regularly by text message about the current status of the repair
A replacement car will be provided free of charge
The repair is done professionally
Your vehicle will be cleaned
We assure our clients of the highest quality
Your vehicle will be repaired and cleansed!
Our goal is achieved: Highest satisfaction of the client
11. Customer satisfaction
Range of services
PDR (Paintless Dent Repair), the modern dent removal technique
Our response to hail damages: Professional Paintless Dent Repair (PDR). This special method enables us to effectively and gently remove all dents in your car. Cost-intensive steps like smoothing, grinding and painting are omitted and the original painting of your vehicle is preserved, and therefore also the warranty services of the manufacturer.
That is why we call the Paintless Dent Repair of PDR-Team smart: it is …
value conserving

rapid, professional and of high quality

certified, warrantable and environmentally friendly

up to 60% more cost effective than a traditional hail dent repair
After thorough examination of the damage pattern as well as a documentation of previous damages, all dents are completely removed. Thus, the bodywork gets back to its original shape.
Hail damages without headaches
Cheer up! It is easier to get rid of hail damages and even parking dents than you might think! PDR-Team offers you the following services:
Rapid order acceptance and processing in its service network throughout USA

Direct settlement with your insurance company

PDR: Professional Paintless Dent Repair – after impacts of various kinds, from a diameter of several millimetres up  to 10 centimetres

Our clients are fully informed due to online tracking of the repair status

After a short repair time, we hand you a cleaned vehicle

5 years corrosion warranty on our repairs
The optimal value preservation for your vehicle
Don't allow hail damages to reduce the value of your vehicle or to create problems at the end of a leasing period when returning your vehicle! Especially, if there are different damages due to daily use, the cost-effective dent removal technique of PDR-Team is the first choice.
Checklist
for the repair of your vehicle
We are happy that you chose to have your vehicle repaired by us!
Please respect the following points so that the claims settlement may take place as quickly as possible:
Preparation

Please bring the expert's report of your insurance along to the repair appointment!
We need the registration document to register your vehicle.
We ask that you bring your vehicle in a clean state. It allows us to see the damage clearly.
Please do not leave any valuable items in the vehicle. We do not take responsibility for them!

Vehicle acceptance

During vehicle acceptance, our collaborator will inspect the vehicle, discuss and document possible previous damages.
Our collaborator will provide a collection date and inform you if we have to delay the completion due date to unexpected repair steps.
If you want a replacement vehicle, we will hand it over to you.

Repair

If the repair effort is higher than calculated by the expert, we will contact him or the insurance company ourselves (approval obtaining inclusive).
You can track the repair status of your vehicle online. We will send you a message as soon as your vehicle is ready to be picked up.

Vehicle handover

Please fill up the replacement vehicle before taking over your repaired and cleaned vehicle!

Invoice

You will soon receive a copy of the invoice which we send to your insurance company at the same time.
Your possible deductible is to be paid directly to us – either in cash when collecting your vehicle or via bank transfer.
We claim the remaining amount directly from your insurance company.
Reparation status
nonstop service – you can always query your current repair status.
Tracing hail damage repair directly online
Your vehicle and your satisfaction are very important to us. That is why we do everything we can to restore your vehicle to its original state.
While the hail experts and dent specialists of PDR-Team are working for you, we will inform you nonstop on the repair status.